Building rapport in a remote world
As teams become more distributed, communication gets more complicated. Here's where we dig into the latest conferencing innovations and collaboration strategies to help you get the most from your mobile team.

Post-Tropo: Where to Go?
Tropo was a much-loved platform that provided developers with an easy-to-use API for voice calls. With Tropo, you could smoothly integrate voice call functionality into your website.
Unfortunately, Cisco has privately announced they're closing Tropo to new customers, and are attempting to move existing Tropo customers to a new platform. Many current Tropo customers are upset about the change. If  you are looking for an alternative platform, where can you go?
Enter Voxeet
While many Communication Platforms-as-a-Service (CPaaS) technically do allow conference calls, they …
Latency is a big deal in live streaming.

Say you're watching a sales webinar, and the stream is so slow that the presenter is unable to share links in the text box as she speaks, due to a delay.

Or maybe you're watching a product demo on a screen share, but you're losing the thread because the salesperson's voice isn't audible until ten seconds after he points at something on a screen.
Well this case is not ideal and that's why we helped a webinar platform fix the problem.

But first, let me provide a little …
Using a messaging platform to organize a meeting or event can be completely frustrating.
You don't always know if people have seen your messages; it's hard to agree on complex topics, and if you miss a thread, it takes you ages to catch up.
Voice calling is equally challenging.
There's usually no written record of the call, and people often need to take some time to make decisions and get feedback. Voxeet and Layer have come up with the solution.
A partnership to deliver unified communication
Layer, a messaging API company, believed that unified communication …
How Industry Uses Layer and Voxeet to Create Human Connections in Recruiting
Industry's candidate management system matches job seekers with companies in the service and hospitality industry. Because a bad hire can cost a company upwards of $50,000, Industry aims to help recruiters get out from under the weight of impersonal resumes to build their brands and recruit talent. Job seekers can take advantage of the platform to grow their networks and find their dream jobs.
Connecting recruiters and job seekers is challenging, though, so Industry turned to messaging to …
Exciting news! Top analyst firm Aragon Research has dubbed us a "Hot Vendor" in Unified Communications and Collaboration for 2017.
Each year, Aragon Research selects Hot Vendors across multiple markets who have interesting, cutting-edge products, services, or technologies.
This year, they selected Voxeet over thousand of UCC companies, based on Voxeet's performance in three specific categories, according to Aragon Research CEO and lead analyst Jim Lundy:
Real Time Collaboration:

"Businesses want multiple UCC capabilities in one product, and Voxeet delivers by combining tools for

real-time collaboration, like audio and video conferencing, screen sharing, and …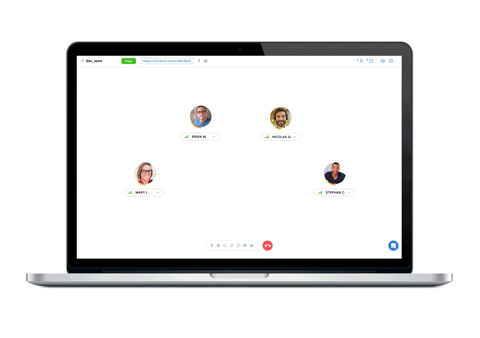 Every vision starts somewhere; ours began with the belief that there is a smarter way to do conference calls. In today's changing work landscape, we know that every conversation matters, so we set out to create a new experience for you, our user, so that you can have a great sounding call every time.
We are now pleased to offer:
The ability to place speakers anywhere within your virtual meeting room (left, center, right, close, or far)

Multi-stream technology to eliminate frustrating cross …